Posted by That girl in 2010, Vegan MoFo.
Tags: food, rant, vegan, Vegan MoFo
add a comment
So close and yet so very, very far away. I've got a good cookie that could be great with the right frosting. Yesterday I wasted far too much organic extract and coconut oil and still got nothing. Grr. I was able to salvage the frosting after just tossing any old thing into it. It doesn't taste amazing or anything, plus I wouldn't begin to know where to begin writing a recipe for it.
So instead I present you with my failure. In my signature drawings. Which I have perfected and patented.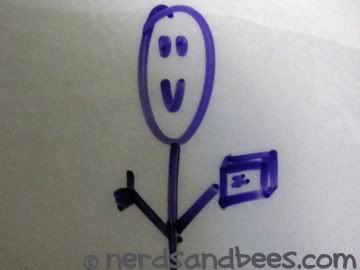 Step 1: Find the perfect recipe from the family archives. Thumbs up!
I can absolutely make this vegan. Do you think 1 cup of Earth Balance is equal to 1 cup of lard? I'm sure it is.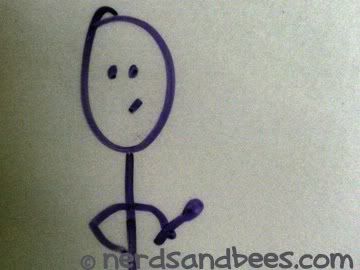 Step 2: The recipe isn't quite right.
Maybe my grandmother wrote it down wrong? Did I miss something? I'm going to power through, eat the mistake and try again. Tomorrow. You can never have enough giant biscuits.

Step 3: This isn't working.
I hate biscuits.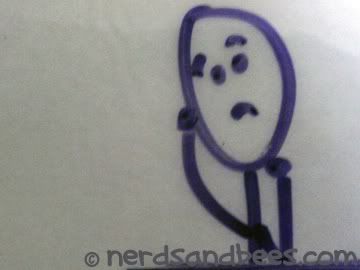 Step 4: Check the recipe again. Try baking them again.
If I just sit down and think, I'll get this. What am I doing wrong? Why can't I make these stupid freaking biscuits?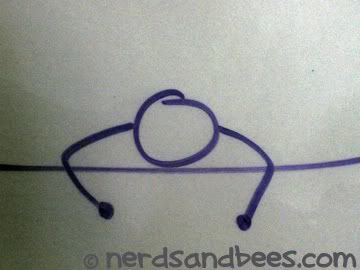 Step 5: I'll get them right next time. Or I'll give up and eat a pan of brownies.  I can't mess up brownies.
Aaarrrg!
Speaking of brownies, I made the Eureka/Super Fudgy brownies again Saturday.  This time I broke up a bunch of Candy Cane Joe-Joe's and put them on top.  Amazing.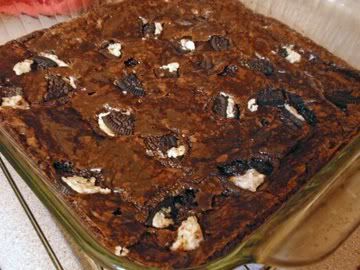 Posted by That girl in 2010.
Tags: rant
2 comments
So let's talk about creepy/crappy neighbors. Unless you're extremely lucky, I'm sure you've had one or two in your lifetime. I've been blessed with quite a few.
Before the new neighbors (and I keep accidentally typing "neighbots" which is appropriate since they're not quite human) moved in last year, I was content being annoyed by the guy down the street who takes it upon himself to give me shoveling tips in the winter. Yes, while I struggle, he tells me where to throw the snow. Thanks.
But the new guys are creepy with a capital yikes. It's bad enough that they somehow managed to talk our landlord into letting them use our yard to create one large backyard for their parties. But they somehow talked my landlord into cutting down trees on their property and removing the fence for them. As I write this, there's a pile of scrap metal from the fence and another pile of tree branches in the middle of our yard.
The younger of the two neighbors claims to be a recent college grad, still trying to get on his feet. He's bald, overweight and very obviously in his late 30s, early 40s. Okay.
They back their car up to the house, open the hatch and crank jam band music while they sit on the porch.
They sneak around, listening to my landlords talk. I witnessed the "college student" army crawling across his yard to eavesdrop, then retreating in the same fashion when he was done.
They're obsessed with the landlord's cat. Landlord comes out, calling for the cat to come, I can see creepy neighbor holding the cat maybe 10ft away, watching. He holds it for a minute or so, enough for landlord to yell a bit longer, then pretends he just found the cat. It's bizarre.
They just give me a very strange vibe. It's as if I'm in a movie and I'm the only one who can see how this is going to turn out…
But my craziest neighbor? I never knew his name, I just called him Crazy.
Crazy was nuts. He left the tub running the entire 2 years I lived there. It was above my bathroom and there were water stains on the ceiling. If it was off, I'd get so excited … then it'd come back on.
He kept a dog I never saw. He didn't walk it, he didn't take it out to use the bathroom, nothing. But we heard it bark all the time. Yet, he had a cat that he never let in the house. When I rescued the little guy, he had frostbite on his ears, nose and feet and his collar had rubbed the hair around his neck clean off.
Crazy had a Saturday routine: rain or shine, sun or snow, he'd get into the car alone, wearing his sunglasses and a winter glove on his right hand, pump up the stereo, put that right hand out the window and hold the top of the car. He'd sit there a few hours, listening to his music, not singing, not moving, just staring ahead and listening. Then he'd turn off the car and go back inside.
I'm not sure where he lives now, but I hope it's not near you.